---
Why Design Your Mountain Home
-for the Disabled?
---
Are mountain homes only for the physically fit? Of course not. But then why aren't more homes designed for the special needs that many of us have? For the person who has trouble seeing, hearing, or moving about freely, a home can become a difficult and dangerous place to live or visit.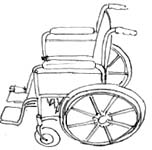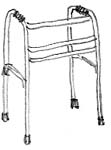 Proof of the need:
---
The manufacturers of medical equipment estimate that there are 80 million disabled people. Clearly there is a growing market for housing that can accommodate their needs. What if you are thinking of building a mountain home?

Planning your home for the special needs of the disabled might save your retirement. One study indicated that during our lifetime, we have a 40% chance of having some type of permanent or temporary disability. This percentage would be much higher in our retirement area. That is why it is such a good idea to design for these needs, whether building a new home or remodeling.

Get the most out of your investment by ensuring that your home meets your needs and your family's now, and as you age. By doing this you can stay in your home longer, avoiding the expense of living in a Nursing Home. "The overwhelming preference of older persons is to age in place; that is, to remain in their homes as they grow older. It is essential that residences be designed to be safe, comfortable, and accommodating to persons of all ages but particularly to those who are faced with diminishing physical abilities which make daily domestic routines difficult to manage." Cyril F. Brickfield, Former Executive Director of AARP

Advantages of providing solutions:
---
This does not mean that all homes should have expensive nursing home fixtures and wheelchair ramps. Your home can be planned to make it easy to add these accessible fixtures if needed in the future. With some creative planning, your home can welcome most people regardless of their level of ability or disability, making it easier to live in and sell. How many times have you had difficulty turning on a faucet with wet hands or had to set down an armload to open a door? Anyone with back problems appreciates the convenience of a raised oven or dishwasher and roll out shelves and drawers in base cabinets. These are great ideas for any home. Including them with the construction of a new home would cost very little and would allow your home to be more easily changed for a person with special needs in the future. That person might be you.

Simple solutions:
---
Some good ideas for your home are:
*Increased door widths
*Adequate space for wheelchair turning radius
*Good general lighting and task lighting
*No stairs from the parking to the main floor
*Lowered light switches and raised electrical outlets
*Contrasting edges on counter tops, stairs, and edges of walkways

THE FRONT DOOR:
The front door to the house can be made easier for everyone to open by one simple change -- a lever handle in place of the traditional knob. This is appreciated by anyone trying to open the door with their arms full. Small children and those with arthritis can manipulate a lever more easily than a knob.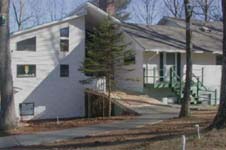 This home is being remodeled to add a wheelchair access to the main level.
THE BATHROOM
The bathroom walls should be reinforced with sheathing or blocking inside the walls to make it easy to install grab bars if they are needed in the future. The bathtub faucet should be located close to the outside edge of the tub to make it easier for everyone to reach. Even if you are not disabled, you can discover that what is a necessity for some can be an added convenience for you. The offset tub control requires only about six inches of additional supply pipe. Some other good ideas include scald proof faucets, adjustable shower heads or personal hand held showers, non slip floors, easily removed base cabinets, mirrors at varying heights or even better, to the floor, and level access shower stalls with a seat but without a curb.
THE KITCHEN
The kitchen can have the usual appliances - dishwasher, oven, separate cooktop, and a standard side by side refrigerator. The advantage of the side-by-side refrigerator is that it places both the freezer and refrigerator compartments within reach of everyone, even children. The stove should have front or side mounted controls, to be more easily used by a greater number of people. The cabinets can also look and function like conventional cabinets. There should be varied counter top heights, contrasting edges on counter tops, pull out surfaces at lower levels, all doors opening outward, some easily removable base cabinets, and adjustable sinks, racks, shelves, and work surfaces. The dishwasher and oven can be set higher for those with difficulty bending and lifting.
THE BEDROOM
With well planned closet storage system should be adjustable, to provide for the needs of many different situations. Wider doors do not always increase construction costs because the extra cost of the wider door can be offset by the cost of the wall area it replaces. Using one size for all the interior doors eliminates the additional costs of planning, ordering, stocking, and coordinating numerous door sizes for every project.
Why change?
---
Many of these features cost little or no money. Planning for the needs of the disabled benefits the public and the entire building industry. The advantages to the consumer are a more comfortable home that suits a lifetime of changing needs, a home that should have better resale value. The advantage to the builder is a better product to offer for about the same price.
---
Richard C. MacCrea designs many types of homes for mountain properties.
---
How to Contact Richard C. MacCrea

My Facebook Page
(Design news and ideas)
Email Me
(Opens an email window)
800.738.8781 P.O. Box 446, Murphy, North Carolina 28906

---
Other Pages on this Web Site

The Mountain Home Show, Home Page and Site Map
(How to find what you're looking for)
The Next Mountain Home Show Program
(For guests and exhibitors)
How to Get in The Mountain Home Show
(For exhibitors)
Articles
(About designing, building and remodeling a mountain home)
The Mountain Model Home
(A home that experiments with extreme energy efficiency)
The Mountain Model Cabin
(A cabin that experiments with small size and energy efficiency)
Construction Diary
(The joys and frustrations of building these two model homes)
Home Designing and Planning
(How to get plans for building or remodeling your home)

How to Contact The Mountain Home Show


Email Us
(Opens an email window)
Like our Facebook Page
(Join our Mountain Home Show Community for news and contacts)
The Mountain Home Show, P.O. Box 446, Murphy, North Carolina 28906-0446

---
Appreciation......
The Mountain Home Show owes its success to the businesses that participate in the show.
They arrange such wonderful exhibits.
It is obvious that they take great pride in their work and our show.
---
This web site contains information obtained from various sources. The Mountain Home Show is not liable for the accuracy of this information. Please contact the source of this information with your questions.