---
The Mountain Model Home
---
Sponsored by:
Energy Concrete Structures, Eco Block Distributor
Email Jerry Cox 828-361-2757
Georgia Mountain Concrete
Email Brian Schmitz 706-897-0180
Just Wood Timber Frames, Timber Framing Expert
Email Jason 770-294-1703
Mountain House Plans by Richard C. MacCrea
Email Richard C. MacCrea 706-745-7550
Pella Window & Door Company of Georgia
Email the Pella Store 706-745-0688
ISG Resources, Inc.


---
Did you know that a study showed that the construction,
operation, and maintenance of buildings is the largest
source of pollution on earth? Even if you are not
concerned with the environment, surely the increase
in energy and building materials costs has your attention.
Are there ways to save on materials costs and at the
same time reduce heating and air conditioning expenses,
have less of an impact on the environment,
while building with better quality?
How much would have to give up to meet these goals?
We decided to test this idea by building
a model home designed for the mountains.
This home is a culmination of years of research
and planning, an experiment in extreme energy efficiency,
economical construction, and environmental conservation.
All of this in a very interesting home that combines
natural materials with modern design.
We rethought all of the old "mountain style home" ideas
and came up with some unique ideas of our own.
For energy efficiency we provided a solar space.
The low winter sun heats up this two story glass room.
As the air heats up and rises, it will enter the upper
level of the home. This will create a cycle of air
drawing the warmth through the entire home.
This home is designed for the warm air to flow
through every room before returning to the solarium.
To protect our home from the cold winter wind,
we bermed the north, east, and west sides
of the home with earth. This also keeps the home
cooler in the summer. To keep the warmth in the house,
we used super insulated ICF walls provided by
Energy Concrete Structures .
(A web page showing information and photos of these walls).
We will also save energy with high quality windows.
We even insulated the concrete floor to keep it
warmer in the winter. In the summer, the home
will be naturally cooled by opening windows
near the peak of the high ceiling to let out the heat.
To reduce construction costs, we reduced the size
of the home. Many homes have a lot of wasted space.
We carefully planned each room looking for ways
to save space without making it feel small.
We decided to build in the furniture.
We also used built in shelving for many of the walls.
This allowed us to eliminate more of the furniture.
Another way we reduced construction costs
was by using locally harvested lumber,
much of it from the trees we cleared for the home.
Instead of purchasing expensive trim,
we purchased tools to make our own.
To save on flooring costs without sacrificing quality,
we chose acid stained concrete.
We also wanted to set a good example in
environmental conservation. We don't like our
mountains being ruined by poorly designed homes.
Instead of planting grass, we will have native
and noninvasive plants. They are beautiful
and require less care. We planned a very small,
private garden spaces, including a water feature,
a small patio, and a terraced flower garden. We
can afford to splurge in this area because it is small.
Placing the garden around the glass room adds
to the living space and provides a beautiful view.
The rest of the landscaping will be an herb garden,
some berry bushes and grape vines, and native
shrubs and trees. We also planned the home
to save as many trees as possible. Excavation
was kept to a minimum to prevent erosion.
Water runoff from the roof will keep the pond
filled and provide water for the plants.
Materials were carefully selected that have
less environmental impact in their manufacture,
and in our home. The walls will be covered
with homemade lime plaster tinted with ochre.
The woodwork is made on site from locally
harvested lumber, finished with a hand rubbed
tung oil finish. We also chose materials that are
less costly, more durable, and more beautiful.
By careful planning we were able to design all
of these features into our home without giving
up anything we want. We believe that huge
private bathrooms and bedrooms do not
promote family togetherness.
So we put the emphasis on the living areas.
While the areas are small, they are more personal
and comfortable. We planned this home to be
very energy efficient, and earth friendly.
But we did not have to give up anything to
achieve this. We feel that these ideas make
this home better, more livable, and more beautiful.
Floor Plan, upper level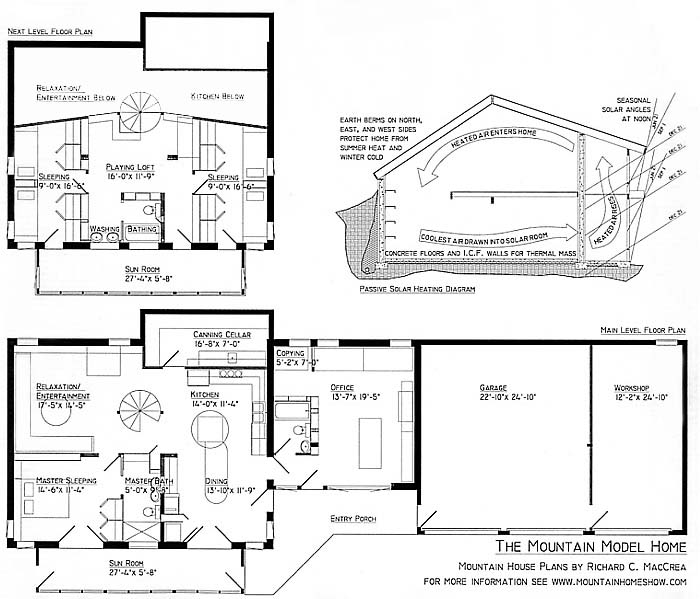 Floor Plan, lower level

Would you like to see this home under construction?
Make an appointment with Richard C. MacCrea.
Or perhaps you would like to observe the
construction of this home on line in our
"Construction Diary."
---
How to Contact Richard C. MacCrea

My Facebook Page
(Design news and ideas)
Email Me
(Opens an email window)
800.738.8781 P.O. Box 446, Murphy, North Carolina 28906

---
Other Pages on this Web Site

The Mountain Home Show, Home Page and Site Map
(How to find what you're looking for)
The Next Mountain Home Show Program
(For guests and exhibitors)
How to Get in The Mountain Home Show
(For exhibitors)
Articles
(About designing, building and remodeling a mountain home)
The Mountain Model Home
(A home that experiments with extreme energy efficiency)
The Mountain Model Cabin
(A cabin that experiments with small size and energy efficiency)
Construction Diary
(The joys and frustrations of building these two model homes)
Home Designing and Planning
(How to get plans for building or remodeling your home)

How to Contact The Mountain Home Show


Email Us
(Opens an email window)
Like our Facebook Page
(Join our Mountain Home Show Community for news and contacts)
The Mountain Home Show, P.O. Box 446, Murphy, North Carolina 28906-0446

---
Appreciation......
The Mountain Home Show owes its success to the businesses that participate in the show.
They arrange such wonderful exhibits.
It is obvious that they take great pride in their work and our show.
---
This web site contains information obtained from various sources. The Mountain Home Show is not liable for the accuracy of this information. Please contact the source of this information with your questions.