---
Design Trends for the Mountains

---
About fifteen years ago I read the most interesting article about design trends. This article forecast a return to the old styles of the entire twentieth century. I remember thinking how wonderful it would be to design homes with the beautiful charm of previous years. I was tired of the house styles of the 1980's and thought this would be a nice change. But, this article also foretold a new modern style would emerge soon after the beginning of the twenty-first century. The reason? The author explained that as a new century approaches, we hang on to what we are leaving behind. Then, when the new century begins, we try to find a new style. I thought this was an interesting concept, and looked forward to seeing if this was true.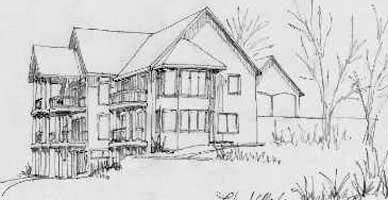 * Retro is declining
I was very happy to see this retro style emerge in the 1990's. People were designing and building homes with beautiful links to the past. What a change! But, this style change was ruined by bad design and poor construction quality. Many neighborhoods were filled with homes that were so much alike you had to remember your house number to find your home, "cookie cutter homes." As the building boom increased, homes got larger and larger. In their efforts to keep up with the Joneses, people built old styled homes that looked like mansions. But, the vinyl venier failed to cover the problems beneath. Master bedrooms and bathrooms got so big and elaborate, that they became more expensive than the rest of the home. If families really need resort style master suites to escape from their children, why did they even have a family? One article humorously labeled these homes "McMansions," fast food architecture. "It looks good, but is it really good for you?"
Happily, common sense is returning to home design. The most fake retro styles are already out. The most genuine, natural retro styles are being combined with a new modern style.
* New modern style emerging If you examine advertisements, design magazines, and home-style books, you will notice this new modern style taking hold. Even automobiles have left the traditional squared off look for exciting curves with bright colors. This new style is based a little on the past, but it is now going in a different direction. Here are some elements I have noticed:

INDIVIDUALISM: Many will no longer settle for the same house their neighbor has. Even if they are buying a new home that is already built, they want to make their home unique. People expect their home to be an expression of who they are. Some entertain often. Others are private. Some want openness. Others would rather have a feeling of shelter. They want their home to express their own individuality.
SLEEK LINES: I love the sleek, bold lines of finely crafted wood that are being seen in many nice homes. This look emphasizes the beautiful wood grain, instead of intricate lines of complicated trim. Sharp angles or gentle curves are appearing everywhere including the roofs, walls, cabinets, and doors.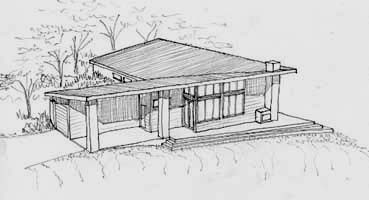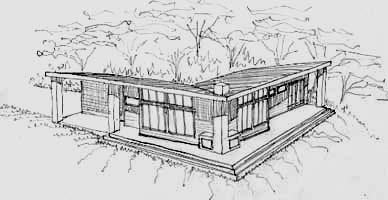 BOLD COLORS: Anything bold is in style. Even the moderns colors of the sixties and seventies! And, you no longer have to have the colors of your furniture match your artwork. People are turning their back on the conservative, restrictive color rules of the nineties. Colors are becoming more artistic, by expressing individual tastes.
PRACTICAL DESIGN: Many are no longer allowing the real estate appraiser to tell them how to build. If they do not want a huge master bathroom they will not have one. They want a great room that is comfortable, instead of an impersonal, noisy auditorium. They do not want features that are designed just to impress someone who might buy the home some future day. If their custom home cannot be designed for their own needs, why build it? These new practical designs take into consideration each person's needs and desires, and how to satisfy them in a way they can afford. Sarah Susanka has written several books encouraging this idea. Her first, The Not So Big House, became a best seller. She was interviewed on many television talk shows. This shows that people want more practical homes.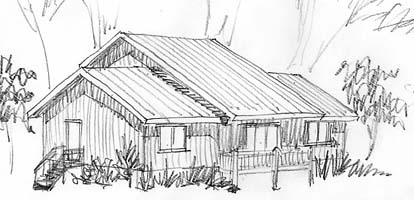 GREEN DESIGN: You might remember the failure of many of the environmentalist ideas of the seventies. Many solar homes were ugly and did not work well. Ecological homes were dismissed as a failure. But, rising energy costs have reawakened the public to everything green. Construction quality problems have added to this movement. Poor building design and construction have led to very expensive moisture and mold issues. Many new materials were filled with toxic chemicals, or had bad quality. But, in the last thirty years much progress has been made in environmental technology. Environmental groups have realized that to gain acceptance they need to promote practical ideas. By working with industry, they have come up with some very good solutions to these problems. All of this has made it more easy and affordable to have a home that is "green", or environmentally correct. Most people now want an efficient home that is low maintenance, and allows them to have a comfortable lifestyle. They want environmental ideas that improve their quality of life. "Green" has become cool. Natural materials and finishes are being used. Windows are being designed to provide extra solar heat in the winter. This brings us to the final design element in this new modern style.
QUALITY: The seventies and eighties hit a real low in construction quality. The nineties did not improve much. Now the public is demanding better quality. They want materials that last longer. They want better construction techniques. The automobile industry has awaken to the fact that they must build better to survive. Now, a typical engine can last three times longer than those in the fifties. But what about the homes we design and build? In the past many compared homes by how much they cost per square foot. Now many would rather build a smaller home and spend extra for better quality.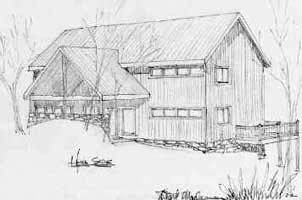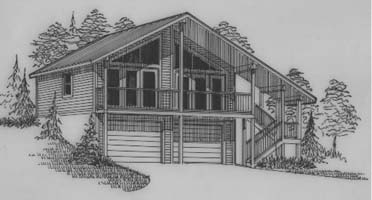 * What This Means for Us in the Mountains More and more of my clients are aware of these trends. They want their home to be designed to fit their individuality. Others in the design and construction field tell me they are seeing the same trend. This is good for us if we respond. We need to educate ourselves on good design and construction.
Don't make the mistake of thinking we can build the same old, cheap, poor quality homes. By offering what the most educated consumers expect, we can attract the kind of people that will contribute more to our economy. Good quality developments do not ruin the mountains, they add to their beauty.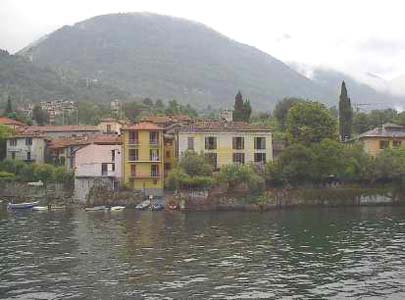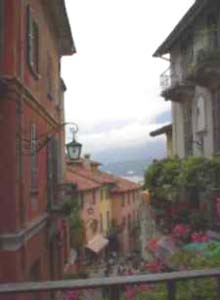 My wife, Rosemarie and I had the privilege to visit the mountains in northern Italy. The scenery looks very much like ours except for one big difference. The buildings and landscaping are far more beautiful. Even though the town of Como, Italy has been a popular resort community for two thousand years, it has not been ruined by bad development. Each building, from the huge mansions to the small cottages, is an asset to its neighborhood. That is the way we should all design and build. Fortunately it's now in style.
* Design Ideas at The Mountain Home Show If you would like to get some great ideas for your mountain home, come see my booth at the next Mountain Home Show. There you can browse through photos of my design projects and watch a computer slide presentation of a few of the best designed homes in this country. At The Mountain Home Show you may also get an invitation to an open house of The Mountain Model Home and Cabin. For more information on The Mountain Model Home, click the picture below:

---
How to Contact Richard C. MacCrea

My Facebook Page
(Design news and ideas)
Email Me
(Opens an email window)
800.738.8781 P.O. Box 446, Murphy, North Carolina 28906

---
Other Pages on this Web Site

The Mountain Home Show, Home Page and Site Map
(How to find what you're looking for)
The Next Mountain Home Show Program
(For guests and exhibitors)
How to Get in The Mountain Home Show
(For exhibitors)
Articles
(About designing, building and remodeling a mountain home)
The Mountain Model Home
(A home that experiments with extreme energy efficiency)
The Mountain Model Cabin
(A cabin that experiments with small size and energy efficiency)
Construction Diary
(The joys and frustrations of building these two model homes)
Home Designing and Planning
(How to get plans for building or remodeling your home)

How to Contact The Mountain Home Show


Email Us
(Opens an email window)
Like our Facebook Page
(Join our Mountain Home Show Community for news and contacts)
The Mountain Home Show, P.O. Box 446, Murphy, North Carolina 28906-0446

---
Appreciation......
The Mountain Home Show owes its success to the businesses that participate in the show.
They arrange such wonderful exhibits.
It is obvious that they take great pride in their work and our show.
---
This web site contains information obtained from various sources. The Mountain Home Show is not liable for the accuracy of this information. Please contact the source of this information with your questions.