---
Measuring an existing structure for the engineer
---
I was asked by a contractor to make a plan of an unfinished home. Another builder had done a very poor job of building this home. It did not meet the codes in many ways. I was asked to provide plans to help the engineers see exactly what was done, and how to correct it.
I did not design this home, but I enjoyed working on this project. The home had a very interesting design. The flat roof was intended for a green roof, a roof with vegetation on top of a water proof membrane. The clients enjoyed telescopes, and this type of roof would reduce the effect of radiant heat radiating off the roof and distorting the view of the stars. Interesting!
I climbed all over the entire structure measuring everything and documenting it with my camera. By noting the location of the photos on the plans, I provided a thorough documentation of every structural member and connection. The engineer was very pleased because the information was so thorough he did not need to see the structure in person. Of course this saved the client a lot of money. But I enjoyed seeing this unique home.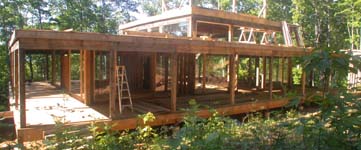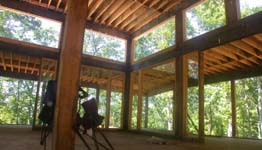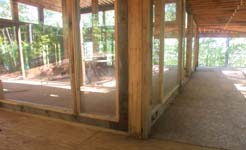 ---
How to Contact Richard C. MacCrea

My Facebook Page
(Design news and ideas)
Email Me
(Opens an email window)
800.738.8781 P.O. Box 446, Murphy, North Carolina 28906

---
Other Pages on this Web Site

The Mountain Home Show, Home Page and Site Map
(How to find what you're looking for)
The Next Mountain Home Show Program
(For guests and exhibitors)
How to Get in The Mountain Home Show
(For exhibitors)
Articles
(About designing, building and remodeling a mountain home)
The Mountain Model Home
(A home that experiments with extreme energy efficiency)
The Mountain Model Cabin
(A cabin that experiments with small size and energy efficiency)
Construction Diary
(The joys and frustrations of building these two model homes)
Home Designing and Planning
(How to get plans for building or remodeling your home)

How to Contact The Mountain Home Show


Email Us
(Opens an email window)
Like our Facebook Page
(Join our Mountain Home Show Community for news and contacts)
The Mountain Home Show, P.O. Box 446, Murphy, North Carolina 28906-0446

---
Appreciation......
The Mountain Home Show owes its success to the businesses that participate in the show.
They arrange such wonderful exhibits.
It is obvious that they take great pride in their work and our show.
---
This web site contains information obtained from various sources. The Mountain Home Show is not liable for the accuracy of this information. Please contact the source of this information with your questions.