---
Purchasing Our Property, August 15, 2003

---
Finding and choosing property can be difficult. To make this easier, I listed all of our needs. I was looking for property between Murphy, North Carolina, and Blairsville, Georgia. Because I want to build a passive solar home, I need to be able to face the long side of the home southward. I also need a property that does not restrict me from having an office in the home, and is conveniently located as close as possible to a major highway. How did I choose a realtor? I emailed quite a few realtors telling them what kind of property I need. One realtor was by far the most helpful. She emailed me descriptions of many properties. She even drove around the area where I wanted to live, looking for property that fit my needs. We eliminated most of them from our list, and went with her to look at the rest. We narrowed our choices to three properties.

The first is over an acre on the highway. While being on the highway was a definite advantage, the property slopes in the wrong direction, which would require too much excavation. The eight foot high bank along the highway would make access difficult. I also did not care for how the neighboring property was excavated right up to the line, leaving a thirty foot drop off on the south east side.

Our second is over an acre that is a few hundred feet off the same highway. The price is ten thousand less and the property slopes quite well for our solar home. There are much nicer trees, and when the leaves are off we will have a beautiful view of a pond.

Our third choice is less than an acre with a two story concrete block store built in the fifties. The shell of the building is in good condition. The property lays well. The southern side is well suited for a two story glass passive solar heater. The lower level opens on three sides and could be our residence. The upper level is even with the street with a glass store front, and could make a very nice office. The floor is oak that is in repairable condition. But the cement block construction is not insulated and the roof needs replacing. We could offer $35,000 more than the second property, but we are not sure that is $35,000 well spent, as the entire lower level would need to be redone. Besides, my wife does not see how that old, ugly building could possibly become a nice place to live. This property would not be the best for us.

So, today we signed the final offer on the second property. The closing will be on September 11.

It took until Friday, September 26 to close on the property. The seller is from Canada and their was a lot of extra paperwork because of new laws that apply to real estate transactions with people from other countries. Here is the property: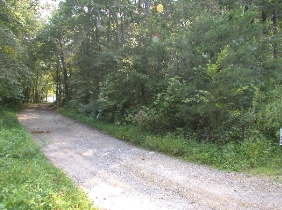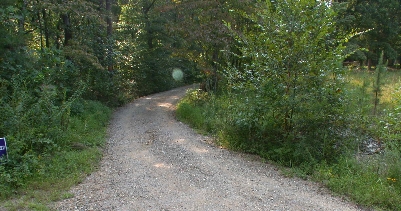 Here is the pretty pond down the road: (Our home will be able to view this pond).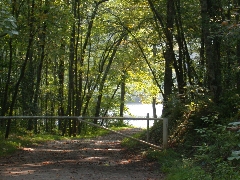 See the picture of us signing our life away?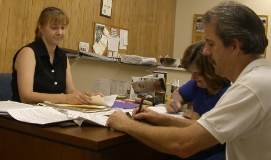 We are in the office of our helpful realtor, Bonnie. If you are considering property for building, that is her specialty. She can be contacted by EMAIL or by phoning her at 800-871-1910
SEE OTHER ENTRIES IN OUR HOME DIARY BY
CLICKING ON THE FOLLOWING LINKS:
(These will be updated throughout the project).


Back to the Diary Home Page


Step 1, Purchasing the Land


Step 2, Designing Our Own Home


Step 3, Our Septic Permit


Step 4, Our Insulated Wall System


Step 5, Cutting Lumber from Our Own Trees


Step 6, Plumbing Before the Slab is Poured


Step 7, Pouring the Concrete Floors


Step 8, Pouring Concrete in the ICF Walls


Step 9, Framing the Wood Walls, Floors, and Roof


Step 10, Installing the Windows


Step 11, Roughing in Plumbing and Electrical


Step 12, Insulation


Step 13, Roofing Our Home


Step 14, Finishing the Cabin

---
I have friends in the construction industry who are very interested in this home. In appreciation for their assistance, I would like to give them credit for their help, and give you the opportunity to contact them. The following list will be updated regularly:

-Bonnie our helpful realtor can be contacted by EMAIL or by phoning her at 800-871-1910
-Tony of A&L Construction did the clearing, excavating, and sawed lumber from our trees. He can be reached at 828-835-9926.
-Pete is a very good part time carpenter. You can phone him at 828-479-9458.

---
Would you like to see this project under construction?
Come to the next Mountain Home Show, and you will get an invitation to our open house.
For more informaiton, click on the link to "Detailed information about the home show."
If you are interested in building, you may also be able to make an appointment to visit.
Click on "Email Richard" to make an appointment. Or perhaps you would like to observe the construction of this home on line.
Click on "Construction Diary." You are welcome to visit often as we continually update it.
---
How to Contact Richard C. MacCrea

My Facebook Page
(Design news and ideas)
Email Me
(Opens an email window)
800.738.8781 P.O. Box 446, Murphy, North Carolina 28906

---
Other Pages on this Web Site

The Mountain Home Show, Home Page and Site Map
(How to find what you're looking for)
The Next Mountain Home Show Program
(For guests and exhibitors)
How to Get in The Mountain Home Show
(For exhibitors)
Articles
(About designing, building and remodeling a mountain home)
The Mountain Model Home
(A home that experiments with extreme energy efficiency)
The Mountain Model Cabin
(A cabin that experiments with small size and energy efficiency)
Construction Diary
(The joys and frustrations of building these two model homes)
Home Designing and Planning
(How to get plans for building or remodeling your home)

How to Contact The Mountain Home Show


Email Us
(Opens an email window)
Like our Facebook Page
(Join our Mountain Home Show Community for news and contacts)
The Mountain Home Show, P.O. Box 446, Murphy, North Carolina 28906-0446

---
Appreciation......
The Mountain Home Show owes its success to the businesses that participate in the show.
They arrange such wonderful exhibits.
It is obvious that they take great pride in their work and our show.
---
This web site contains information obtained from various sources. The Mountain Home Show is not liable for the accuracy of this information. Please contact the source of this information with your questions.