---
Plumbing Before the Slab is Poured, December, 2003

---
Here is a story that many contractors would tell you, about why no one should be their own contractor. I chose a close friend of mine to do the plumbing. I did not know that he was exremely busy and could not do the work himself. He did not want to hurt my feelings by telling me he counldn't help me. So, he hired a relative who was not aware of the requirements for plumbing in our county.
Several times my plumber friend thought the plumbing was ready for inspection, but each time it failed. We finally found out that a pressure guage needed to be set up on the water lines and the waste lines, to pressure check them for leaks. Well, the plumbing lines had a lot of leaks. My plumber friend came out and worked many cold nights trying to find them all. After six weeks, we both realized this was a futile battle. He and I both agreed that our friendship was more important than this job, so now I am waiting for a price from a new plumber. So far this has caused another seven weeks delay in the project and an expensive fine with the building inspection department. This guage has leaked from 90 to 37PSI.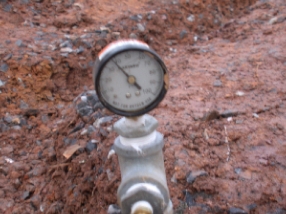 In dealing with so many people, it is impossible to build a home without problems. Fortunately my friend and I were able to settle this without hard feelings.
---
Plumbing Passes Inspection, January, 2004

---
We found another plumber who is well known by the inspectors. He knew just what to do to make them happy. We passed the inspection and are waiting for the next step, preparing for pouring the slab.
SEE OTHER ENTRIES IN OUR HOME DIARY BY
CLICKING ON THE FOLLOWING LINKS:
(These will be updated throughout the project).


Back to the Diary Home Page


Step 1, Purchasing the Land


Step 2, Designing Our Own Home


Step 3, Our Septic Permit


Step 4, Our Insulated Wall System


Step 5, Cutting Lumber from Our Own Trees


Step 6, Plumbing Before the Slab is Poured


Step 7, Pouring the Concrete Floors


Step 8, Pouring Concrete in the ICF Walls


Step 9, Framing the Wood Walls, Floors, and Roof


Step 10, Installing the Windows


Step 11, Roughing in Plumbing and Electrical


Step 12, Insulation


Step 13, Roofing Our Home


Step 14, Finishing the Cabin

---
I have friends in the construction industry who are very interested in this home. In appreciation for their assistance, I would like to give them credit for their help, and give you the opportunity to contact them. The following list will be updated regularly:

-Bonnie our helpful realtor can be contacted by EMAIL or by phoning her at 800-871-1910
-Tony of A&L Construction did the clearing, excavating, and sawed lumber from our trees. He can be reached at 828-835-9926.
-Pete is a very good part time carpenter. You can phone him at 828-479-9458.

---
Would you like to see this project under construction?
Come to the next Mountain Home Show, and you will get an invitation to our open house.
For more informaiton, click on the link to "Detailed information about the home show."
If you are interested in building, you may also be able to make an appointment to visit.
Click on "Email Richard" to make an appointment. Or perhaps you would like to observe the construction of this home on line.
Click on "Construction Diary." You are welcome to visit often as we continually update it.
---
How to Contact Richard C. MacCrea

My Facebook Page
(Design news and ideas)
Email Me
(Opens an email window)
800.738.8781 P.O. Box 446, Murphy, North Carolina 28906

---
Other Pages on this Web Site

The Mountain Home Show, Home Page and Site Map
(How to find what you're looking for)
The Next Mountain Home Show Program
(For guests and exhibitors)
How to Get in The Mountain Home Show
(For exhibitors)
Articles
(About designing, building and remodeling a mountain home)
The Mountain Model Home
(A home that experiments with extreme energy efficiency)
The Mountain Model Cabin
(A cabin that experiments with small size and energy efficiency)
Construction Diary
(The joys and frustrations of building these two model homes)
Home Designing and Planning
(How to get plans for building or remodeling your home)

How to Contact The Mountain Home Show


Email Us
(Opens an email window)
Like our Facebook Page
(Join our Mountain Home Show Community for news and contacts)
The Mountain Home Show, P.O. Box 446, Murphy, North Carolina 28906-0446

---
Appreciation......
The Mountain Home Show owes its success to the businesses that participate in the show.
They arrange such wonderful exhibits.
It is obvious that they take great pride in their work and our show.
---
This web site contains information obtained from various sources. The Mountain Home Show is not liable for the accuracy of this information. Please contact the source of this information with your questions.