---
Designing Our Own Home, August 15, 2003

---
There are too many cool books out on designers' own homes. Now that I have the opportunity to design my own, I want to include all of the very best ideas I can. How do I decide???

Actually I have a set of plans I produced several years ago. The design included a solar green house, earth berming, and built in furniture to reduce the size of the home. Down to the last detail everything was planned. We tried and tried to sell our home so we could build this new one. Finally we gave up and began to remodel our home. In the very depths of this remodeling project, just when we were beginning to enjoy what we were creating, someone made an offer on our home! Quickly, I poured through our home plans, and noticed many things I did not like. So now I am breaking one of my rules. I am making decisions too quickly. We have six months to move. In this time we must build the entire shell of our home.


We have also decided to build a very small guest home to live in while we are finishing the house. We will be moving into the guest house in six months.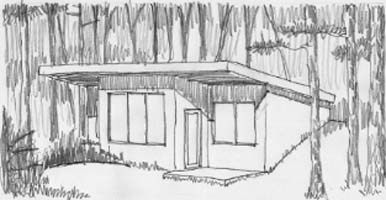 Our home will be passive solar. This means that during the winter the sun will come in through glass and heat the air inside. Many think solar homes are ugly. Whenever I ask a client if they are interested in a solar home, the answer is a very quick, "No!" They are thinking of the ugly homes from the seventies. Much has been learned about solar heating since then. My home will feature a long, shallow, two story solar green house. It will be carefully designed so the winter sun will quickly heat up the air inside the green house. When the doors and windows between the house and greenhouse are opened, this hot air will rise into the upstairs of the home. This will draw the cooler air from downstairs into the solar greenhouse. This cycle will pull solar heated air through every room in the house. At night when the greenhouse is cold, the doors and windows can be closed, and the free heat will stay inside. By building with much more insulation, this heat will stay in the house much longer. The floor will be concrete to absorb the heat. This is called thermal mass. At night this heat will radiate back into the house.
Our home will be cooled naturally by convection. Windows on the shaded north side will allow cool air to enter the lower level. At the peak of the cathedral ceiling, on both ends, will be windows to open and let the hottest air flow out. The home is designed for central air conditioning, but we will not be installing this unless in the future we decide it is needed.
Our home will be very small. Ever since Sarah Susanka published her book, "The Not So Big House," more and more of my clients have been telling me they want plans for a smaller, better quality home. This makes me so happy! Instead of thinking only of resale value, people are wanting homes that satisfy their needs. Our home is an experiment on how far I can go with this. It is designed like a yacht. By building in all of the furniture, the rooms can be much smaller without feeling cramped. Storage can be fit into many forgotten spaces, like bathroom shelves recessed into stud walls, drawers under beds, and better designed closets. Many parts of the home will serve double functions. The built in dining table is designed to serve as extra kitchen work space. My office bathroom is also the powder room. The kitchen will be very tiny, making cooking more convenient. An adjacent canning cellar will provide ample storage for seldom used appliances, food, and even a wine aging cabinet. This cabinet will be kept at the ideal 55 degree temperature because three sides will be uninsulated concrete walls against the earth.
We will be saving costs in many ways. Our flooring will be acid stained concrete, a beautiful, durable floor treatment. I will be making our cabinetry and trim from locally harvested timber. It was much less expensive to buy good wood working tools than trim. We are also searching for used materials from resalers and local demolitions. By designing the home to fit the site, we will be saving excavation costs.
SEE OTHER ENTRIES IN OUR HOME DIARY BY
CLICKING ON THE FOLLOWING LINKS:
(These will be updated throughout the project).


Back to the Diary Home Page


Step 1, Purchasing the Land


Step 2, Designing Our Own Home


Step 3, Our Septic Permit


Step 4, Our Insulated Wall System


Step 5, Cutting Lumber from Our Own Trees


Step 6, Plumbing Before the Slab is Poured


Step 7, Pouring the Concrete Floors


Step 8, Pouring Concrete in the ICF Walls


Step 9, Framing the Wood Walls, Floors, and Roof


Step 10, Installing the Windows


Step 11, Roughing in Plumbing and Electrical


Step 12, Insulation


Step 13, Roofing Our Home


Step 14, Finishing the Cabin

---
I have friends in the construction industry who are very interested in this home. In appreciation for their assistance, I would like to give them credit for their help, and give you the opportunity to contact them. The following list will be updated regularly:

-Bonnie our helpful realtor can be contacted by EMAIL or by phoning her at 800-871-1910
-Tony of A&L Construction did the clearing, excavating, and sawed lumber from our trees. He can be reached at 828-835-9926.
-Pete is a very good part time carpenter. You can phone him at 828-479-9458.

---
Would you like to see this project under construction?
Come to the next Mountain Home Show, and you will get an invitation to our open house.
For more informaiton, click on the link to "Detailed information about the home show."
If you are interested in building, you may also be able to make an appointment to visit.
Click on "Email Richard" to make an appointment. Or perhaps you would like to observe the construction of this home on line.
Click on "Construction Diary." You are welcome to visit often as we continually update it.
---
How to Contact Richard C. MacCrea

My Facebook Page
(Design news and ideas)
Email Me
(Opens an email window)
800.738.8781 P.O. Box 446, Murphy, North Carolina 28906

---
Other Pages on this Web Site

The Mountain Home Show, Home Page and Site Map
(How to find what you're looking for)
The Next Mountain Home Show Program
(For guests and exhibitors)
How to Get in The Mountain Home Show
(For exhibitors)
Articles
(About designing, building and remodeling a mountain home)
The Mountain Model Home
(A home that experiments with extreme energy efficiency)
The Mountain Model Cabin
(A cabin that experiments with small size and energy efficiency)
Construction Diary
(The joys and frustrations of building these two model homes)
Home Designing and Planning
(How to get plans for building or remodeling your home)

How to Contact The Mountain Home Show


Email Us
(Opens an email window)
Like our Facebook Page
(Join our Mountain Home Show Community for news and contacts)
The Mountain Home Show, P.O. Box 446, Murphy, North Carolina 28906-0446

---
Appreciation......
The Mountain Home Show owes its success to the businesses that participate in the show.
They arrange such wonderful exhibits.
It is obvious that they take great pride in their work and our show.
---
This web site contains information obtained from various sources. The Mountain Home Show is not liable for the accuracy of this information. Please contact the source of this information with your questions.